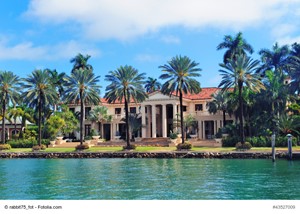 If you plan to sell your Florida luxury residence in the foreseeable future, you'll want to create an effective house listing. That way, you can boost the likelihood of a fast, profitable home sale, regardless of whether your residence is located in Orlando, Tampa Bay or any other Sunshine State city or town.
Believe it or not, crafting an engaging Florida luxury home listing can be simple. Now, let's take a look at three tips to help you draft a house listing that hits the mark with Sunshine State luxury homebuyers.
1. Consider Your Target Audience
Think about who may be interested in your Florida luxury home and tailor your listing accordingly. By doing so, you can boost your chances of developing a home listing that caters to dozens of potential Sunshine State luxury homebuyers.
For example, if you're creating a listing for a luxury home in Miami, you may want to mention that your residence is located near many of the top beaches in Florida. This may help you stir up interest in your Sunshine State luxury home and differentiate it from the competition.
2. Analyze Your Luxury House
Although you've dedicated significant time and resources to upgrade your Florida luxury house over the years, your home may still have various minor flaws. Fortunately, if you analyze your luxury house, you can perform myriad property upgrades and include details about these home improvements in your listing.
For instance, if you recently updated the roof of your Lake Worth luxury residence, you may want to include information about this home upgrade in your listing. Replacing a roof is a costly and time-intensive repair. But if you have installed a new roof on your Sunshine State luxury house, the next homeowner likely won't have to worry about performing roof upgrades any time soon.
As you craft your Florida luxury home listing, you should always be honest with homebuyers too. If you include accurate information about your house in your listing, you can make it easy for buyers to make an informed decision about whether to pursue your Sunshine State luxury residence.
3. Consult with a Real Estate Agent
Creating an informative home listing for a Florida luxury house can be difficult for novice and experienced home sellers alike. Thankfully, real estate agents with luxury housing market experience are available who can help you put together an engaging home listing.
A real estate agent who knows the ins and outs of the Sunshine State luxury housing market is exceedingly valuable to sellers in Fort Lauderdale, Jacksonville and elsewhere in Florida. This housing market professional can offer expert advice to help you create an effective listing. Plus, a real estate agent is happy to provide tips to help you streamline the Florida luxury home selling journey.
Ready to create an effective Florida luxury home listing? Use the aforementioned tips, and you should have no trouble adding your Sunshine State luxury home to the local real estate market and generating plenty of interest in your residence.